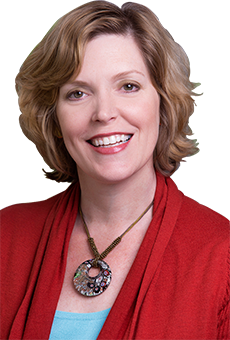 Welcome!
Celebrating 12 years
of Organizing Atlanta!
Posted on Monday, November, 7th, 2016 at 12:59 PM (No comments)
After Laura Ray Organizing
You may love decking the halls, but not un-decking them (is that a word?). Well…there's help.
        One of the services Laura Ray Organizing offers is helping clients put away their Christmas decorations. Proper boxes or bags, if needed, are selected for all of the festive decor and all are labeled. Boxes are packed and stowed in your storage area.
       Christmas is put away in a flash like Santa's sleigh, and decking the halls next year is merry since ornaments are organized and easy to find.
Posted on Thursday, February, 13th, 2014 at 2:25 AM (No comments)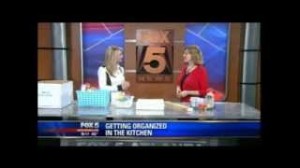 It's wonderful to be asked to be on Good Day Atlanta (Fox 5) for a second time! I was interviewed on their live show for kitchen organizing on Tuesday, Jan. 21, 2014.
The kitchen is the heart of the home, so making it peaceful and functional is so important. Here are my tips below from the show for your kitchen:
Or, watch my Fox 5 clip here!
1) Get rid of the clutter, don't organize it! (Think mismatched plates and glasses, and unused small appliances.)
Posted on Thursday, January, 2nd, 2014 at 1:42 AM (No comments)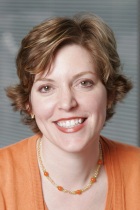 Laura Ray has been named President of the National Association of Professional Organizers (NAPO) – Georgia Chapter, effective December 9, 2013. Laura, who was in her second term as Vice President of the NAPO-Georgia Board 2013-14, and in her third year on the Board, was voted in after the current President resigned.
The Organizing Authority(R), the National Association of Professional Organizers (NAPO), is the premier association dedicated to the field of organizing. Since forming in 1985, NAPO has been dedicated to serving its members through education, networking, industry resources, and promoting the profession to the public.
Posted on Wednesday, September, 18th, 2013 at 11:30 PM (No comments)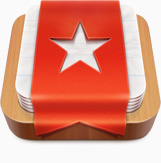 I have always used paper to-do lists — one list for today's tasks, one for all current tasks and one for future tasks. It worked okay, but got messy. And, it was difficult to add to when I was away from my home or office. If you can relate, keep reading…
I want to stay up-to-date on productivity methods for my clients, so my "test" of smart phone and tablet apps began! Researching the hottest to-do lists, I found Wunderlist, Remember the Milk and Workflowy. I really am enjoying a digital to-do list! One can add to it at any time of day or night, and not have to squeeze it in on an already-full or messy paper to-do list. Read more...
Posted on Monday, August, 12th, 2013 at 6:37 AM (No comments)
Pantry before and after by Laura Ray Organizing
Yahoo! Finance did a nice short video on which foods to save indefinitely when you clean out your pantry. They are 1) pure honey, 2) sugar – all kinds, 3) rice and 4) salt. Click here to see more.
Posted on Wednesday, July, 10th, 2013 at 12:11 AM (No comments)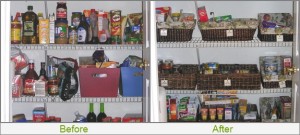 If the kitchen is the heart of your home, then making it an inviting, comfortable space that functions well should be a priority. But how? What can you do to make it more peaceful? How do you make it function more efficiently? Here are a few tips that can help:
1) Get rid of the clutter. Clutter creates visual confusion. Go through everything in your kitchen and decide whether you use it and love it. If it doesn't meet these criteria, it's clutter! You may find a dish set you don't use anymore, glasses that don't match, duplicate cooking utensils, or small appliances that were a good idea at the time. Read more...
Posted on Friday, February, 24th, 2012 at 3:08 PM (No comments)
I had a great time on Good Day Atlanta (Fox 5) today! The staff and anchors were so nice. Anchor Buck Lanford interviewed me about organizing your closet as part of their Get Organized Week series. They were most impressed with the Cap Rack, which can hold about 16 baseball caps or golf visors.
My philosophy about closets that I shared:  Your morning closet experience can be great or chaotic. Getting more organized helps set a better tone for the day.
Watch my Fox 5 clip or just check out my tips and product recommendations from the show: Read more...
Posted on Friday, May, 6th, 2011 at 12:19 AM (No comments)
Happy Mother's Day, moms! I have a lot of moms as clients. What I always tell them? We're not going for perfection, but we do want "homes" for every item. There needs to be established places, or "homes," for shoes, backpacks, keys, briefcases, purses, toys, clothes, gadgets, items to return to the store, etc.
Spending the time to assign homes simplifies your day. How? At the end of the day, maybe after dinner, you can take 20 minutes and zoom around each room putting items back in their homes. Since there are no decisions to make, it's mindless and easy. And, of course, get your family involved whenever possible.